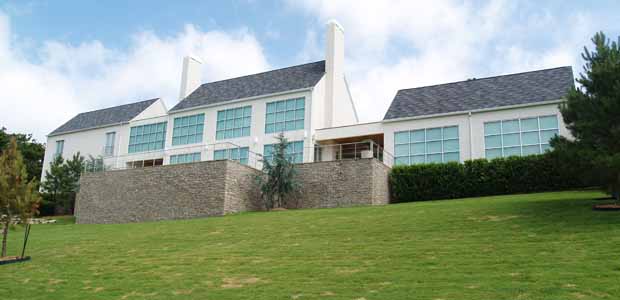 Sheridan Oaks Estates
Owners:  Cathy and Doug Vaughn
Address: 6305 East 85th Court
Year Built: 2006
The Vaughn House sits imperiously across a high crest of south Tulsa. The panoramic view from each room stretches southward across valleys and lower hills, and can only be described as breathtaking.  Every approaching storm and every snowy day become glorious events accessible from any point of the structure.
The style is emphatically contemporary, with clean and unobstructed lines and natural surfaces that define this beautiful home as an indefinite classic of its type.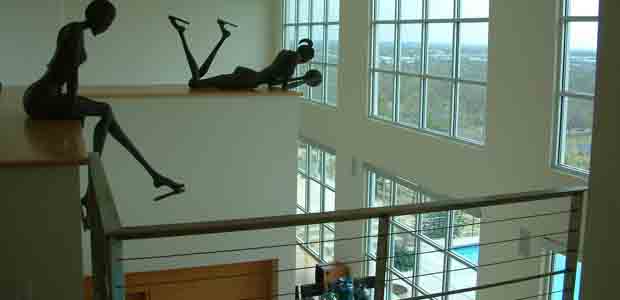 White walls, pale natural maple flooring, and natural aluminum windows form the thread of the house. The two-story spaces and recessed lighting give the home's high perch an even more celestial quality.  Exposure to environment and natural light contribute to spaciousness at every turn.
It is basically a set of three pods clad in concrete stucco, exteriorly joined by outdoor seating areas to each side of the public area, or what we might normally call "the common area," with interior passage from one pod to the next achieved through a long north side passageway walled in glass blocks, allowing an additional constant source of natural light.
The eastern pod is the master bedroom, with continued panoramic view as well as a glassed eastern exposure.
The elevated pool is in view from each pod.
An open, natural maple stairway, very sculptured in design, leads from the entry upwards to a loft where we find pool table, television, and other accommodations clearly intended for an evening's relaxation with friends and family.
The garden space is populated by two bounding Standard Poodles.