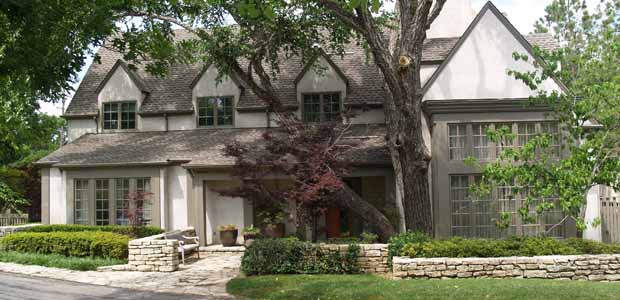 The English Cottage
2401 East 27th Place
Built as a spec house, purchased by Sherri and George DeMier, 1981
On the limited urban grounds, and once inside the home, one would never suspect that this home actually backs up to busy Lewis Avenue.
It is what Fox calls "a small English cottage," its stone and stucco exterior trimmed with flat and half-timbers exemplify many of the country homes dotting the hillsides of Yorkshire.
Three dormers accentuate the pitched roof in English cottage style.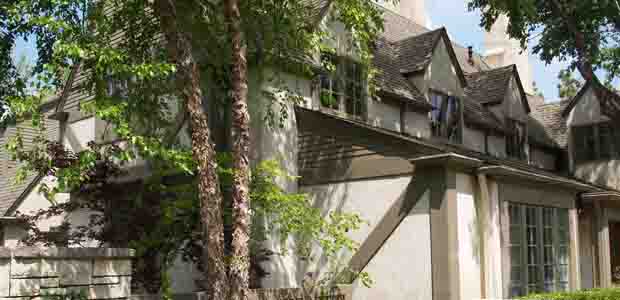 A hand-constructed stone wall dispenses utter privacy and invokes a yearning for strawberries with Devonshire cream, or perhaps a cool pouring of stout.
Fox was insistent upon preserving the majestic Water Birch that shades the front of the home, its life-sustaining cables somewhat visible on an unleafed, winter day.
"Such a beautiful tree," Fox observed.  "No way could I let it be destroyed, and instead, it became an important focal point for the look of the house."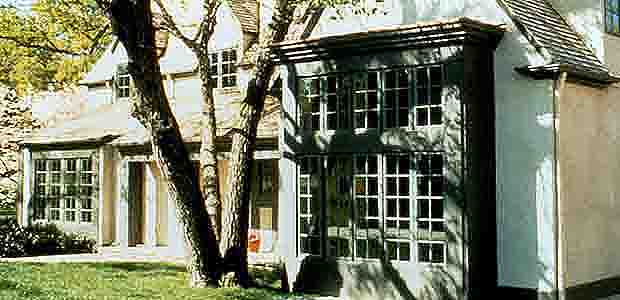 The home's interior extends Fox's vision:  open, comfortable blended spaces that are easy to live in.