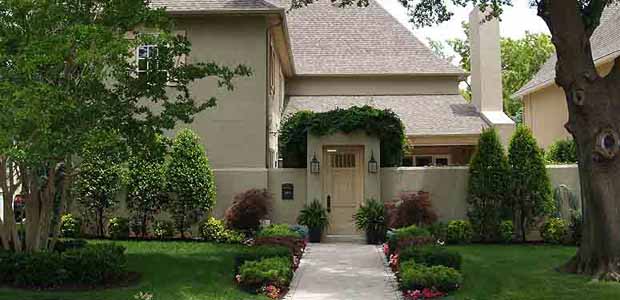 Owners: Sally and Mike Rippey
Address: 2273 South Rockford
Year Built: 2006
Construction of the Mike and Sally Rippey home at 2273 South Rockford was completed for habitation in 2007
"It's an empty-nester," Fox described.
Mike Rippey loves the garage.  He opened a hallway door onto the garage space.  "What's the first thing you see?" he asked about the stark white space with two cars parked inside, one grey and one black.  "Can't have a red car in here.  It would completely destroy the mood."
He opened a drawer of the installed cabinetry.  Inside were gardening gloves, a pruner, a trowel, and a few other hand implements.  "This drawer has replaced all of the motorized equipment I used to have.  I had a huge riding lawnmower, electric hedge trimmers and edgers, you name it.  I rode that mower every week-end, and in fact spent just about every free week-end working on the grounds of our previous house."
"Do you miss it?" we queried.
"Yeah, I did.   Maybe for a week or two."
A wonderful study in the Fox's Urban French style, the design of the home was client-driven.
"I'd call this a double barrel French Shotgun," Fox humorously described.
The exterior architecture features straight line concrete construction with a slate Norman roof.
Noteworthy is the preservation of an existing large Crape Myrtle which gives the landscape an undeniable element of the best of visuals in our hot Tulsa summers.
The interior entryway is contained, its space enhanced by the careful placement of a beautifully-framed mirror that is consistent with the style and feel of the home's interior.
An intimate living area views Woodward Park to the west. Tall, two-story ceilings lend a grand feel of space.  Eastward through this open floor plan, we find the kitchen and dining room.
Vistas are beautifully staged through generosity of windows.
Upstairs, from the master bedroom area, a downward view of the Linnaeus Gardens maintains a wide and calming interaction with Tulsa's best example of the natural kingdom.
The master bath features ultimately modern, convenient detail.
Guest bedrooms continue the upstairs space, each with private baths, each with glorious, space-enhancing views.
Careful and detailed planning have given this 2,700 square foot space the essence of villa living without need for a groundskeeper.