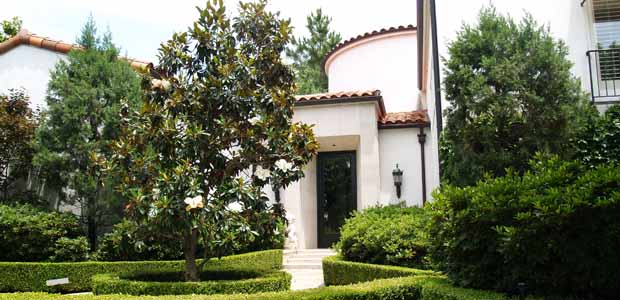 Address: 3229 South Zunis
Year Built: 2000
A true-to-form Spanish Colonial Revival home, the clean white stucco exteriors paired with the terra cotta roof are reminiscent details of the Santa Barbara homes designed by architect George Washington Smith in the 1920's.
The home is now occupied by Joyce and Harry Summers.
Slight elevation above street level imparts a stately presence.  Privacy is emphasized by an iron gate and a meandering white stucco half-wall lined by groomed boxwood.
Large marble foo dogs fiercely guard the front entrance.
Interior space is managed by a huge, two-story rotunda entry from which other rooms radiate.
To the right, the main living area.  Ahead, a beautiful dining salon with wooden coffered ceilings beautifully emphasized by columns.  Left, a grand curved stairway leads to an upstairs study and office area, completely visible from below.
The open floor plan and oversized windows add to the home's grand style.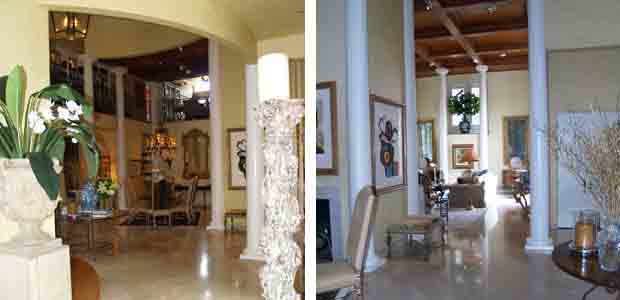 A powder room rests to one side, opulent with a striking curved wall.
The kitchen is large and functional.  Table and chairs are arranged before large French doors leading to the courtyard, and on the opposite wall a large window over the sink area reveals a separate garden space.
The butler's pantry between the kitchen and dining area provides a remarkable staging area.   "I use this pantry a lot," Joyce said.  "It's the perfect place to set up desserts and coffee after dinner.
"This is my favorite room," Joyce Summers told us, leading us to a courtyard accessible by a doorway off the entry.   It is a wonderful space indeed, its large stucco fireplace decked by enormous French urns.  Comfortable outdoor chairs and settees reflect her enjoyment.  Completely walled and completely private, perfectly and personally landscaped by Joyce, it is a slice of heaven.
The courtyard is in view of and accessed by the kitchen and master suite as well.
Upstairs, the coffered ceilings extend over the study.  This is a real workspace replete with book shelving, desks and comfy sofas.  From large windows, we view more of Joyce's thoughtful landscaping.  "Yes, I did all of the planting myself," she told us.  "I love gardening and I love getting my hands in the dirt."
The study was added on when the Summers' bought the home.  "We used Pat's design," Joyce said.  "It was the only thing to do!"
The upstairs bedrooms present fortress-like privacy from the rest of the house.  Each has its own beautiful bath, and each has a small balcony defined by iron rail work looking down into Joyce's gardens.
Harmony with the outside landscape is evident in each room, yet the house itself is essentially removed from the outside world.
"You see or hear nothing from the street," Fox commented.  "It is a true urban haven."