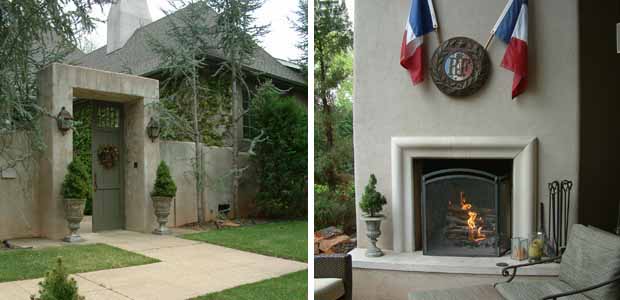 Owners: David Daniel
Address: 16th and Carson
Year Built: 1998
David Daniel resides in the house on the south side of the two Urban French Shotgun Houses.
Beyond the gates, we find a large outdoor room, and while the pool is its centerpiece, it's impossible to ignore the long northern wall lined with Blue Atlas cedars.
"A few of the cedars died out," Daniel mentioned, nature providing its own pruning efforts to provide thriving room for the remaining trees.
The wall was originally espaliered with Boston ivy, some of it still visible as backdrop for the drama of the cedars.
The pool is staged by a series of seating arrangements that could be either intimate or part of the big party.  Small trees in French urns line up as part of the completely Parisian atmosphere, and it is difficult to not linger. An outdoor fireplace marks companionable grace to a very private cloister.
Elements of Tulsa's impressive skyline loom large beyond the walls, in particular, the now historic Liberty Towers.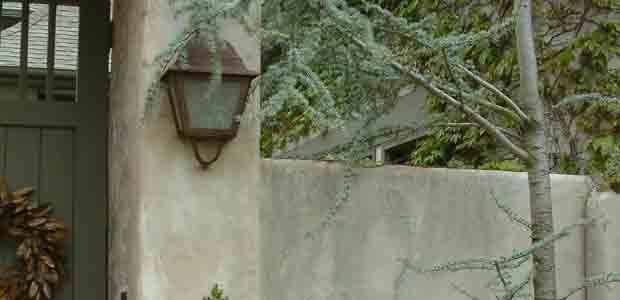 Entry to the residence is made through glass doors on the courtyard's opposite side.
"We actually have a real front door, but no one ever uses it," Daniel commented.
Through the glass doors, we go into the dining area where coffered ceilings stretch to thirteen and a half feet.  To our right, an intimate living space loftily continues with an amplifying view of courtyard and pool.  A light wash of exterior light charges the relationship with natural outdoor environment.
Generosity of interior height and constant natural illumination invoke an amazing feel of space in this residence that is actually 2,200 square feet in size.
The master bedroom area overlooks the courtyard.  Here, again, artful use of height gives an intimate room masterful spaciousness.  Bath space is highly modern and comfort-inspired.
The closet is not a closet at all, but is rather its own room with a generous dressing area.