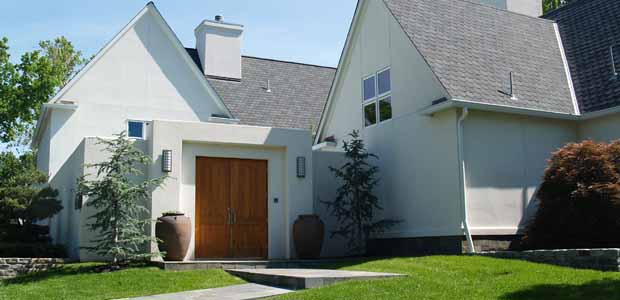 Owner: John Piercey
Address: 1643 East 30th Place
Year Built: 2006
This is John Piercey's second Patrick Fox home.
"I loved the first place Pat did for me," Piercey commented, "and never thought I'd leave it.  But then we started talking about this place, and well—there you have it."
The approach to this walled contemporary home is beautifully symmetric.
European-styled wooden gates in the exterior stucco privacy wall lead to a large and very private courtyard which is dominated by a reflecting pool.  Two spacious, covered alcoves rest along the eastern exterior, parallel to the pool.  One is a comfortable seating area arranged before a large outdoor fireplace, the other, a separate and well-appointed barbeque area with more lounging and its own grand and imposing fireplace.
Glass walls flank the courtyard, fully incorporating the outdoor living space into each interior room with uninterrupted eastern exposure. Outdoor elements blend both casually and purposefully into the interior.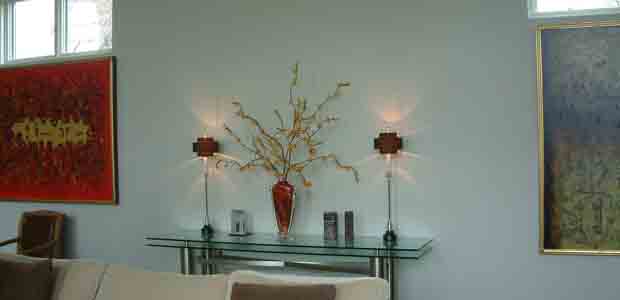 The house was designed to showcase Piercey's love for art and books, and to give testimony to personal experience.  Throughout the house, uninterrupted wall space displays an impressive collection of art and photographs that catalog a rich and well-recorded life.
Ceilings are tall, rooms are spacious, and the livin' is easy.
The main living area has two fireplaces, one at each end of the room.  The courtyard and pool are in full view while high windows on the opposite walls on the west assure complete privacy and curtail the blaze of intense summer sun.
Upstairs, we find a large open loft area overlooking the courtyard.  The loft serves as a relaxed office space, complete with cabinetry, computers, and overlooks the courtyard.
Masterful strategic games are pursued with friendly opponents on these computers.
The master bedroom and bath lie to one side, a large and comfortable retreat with an enormous adjoining closet and dressing room.
The library is packed with books and art and artifacts.
Piercey himself did much of the millwork.
"This is what makes this house so special," Fox commented.  "This is what makes it completely his own."