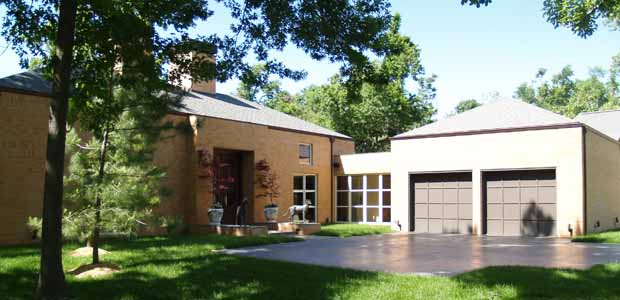 Owners: Sherri and George DeMier
Address: 3159 South Rockford
Year Built: 2007
Symmetry and simplicity of form give the DeMier home a particularly Palladian stylishness.
Here, we find no soffiting or exterior excess, but instead, a straight-line structure clad in basic orange modular brick perfectly balanced by a series of grand windows.
The front door is flanked by a pair of bronze life-size greyhounds.
"I've schlepped those dogs from house to house to house," Sherri DeMier tells us.  "Everyone loves them."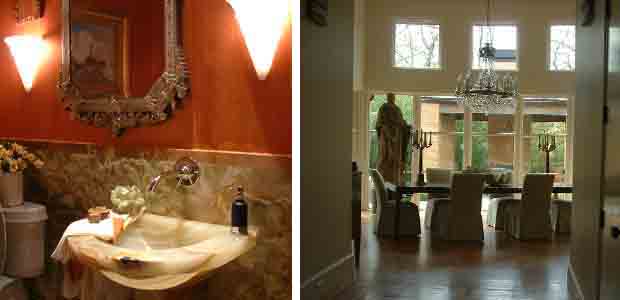 The entry way is grand and tall.  A striking view of the dining area with fully-windowed exterior wall looks out to the summer house. To one side of the entry lies the main living area.  Over-sized windows and a curved fireplace wall are uncontrived, giving the room its own natural elegance.
Eighteen-foot ceilings and wide windows expand interior spaces.  Fireplaces and softly curved walls deepen the home's internal graciousness.
Occasional parquet insets distinguish continuous oak flooring.
It is a special kitchen that hardly looks like a kitchen at all.  Carved antique wooden doors at either end of the long countertop camouflage pantry space.  Rather than typical upper cabinets, we find framed art.  Refrigeration components and storage are tucked below the counters.
Sofas face each other before the large two-sided fireplace, inducing guests to gather round while the food is fixed.
"I just love it!" Sherri exclaims.  "I never feel like I'm in the kitchen."
The coffered ceiling in the upstairs master suite is gilt-trimmed.  "I painted that myself," Sherri mentioned.  His and her dressing areas are well-fitted.  "Mine was designed for short people," Sherri said, demonstrating that, diminutive as she is, everything is within easy reach.
A secluded guest bedroom and a third bedroom converted to home office are also located on the second floor.
Windows are placed for privacy and allow natural light to stream inward.